Yes, you heard me correctly. You should learn how to master <table> based layouts and code like it's 1999. 
Why? Email.
In my experience, Email is the most effective marketing channel, often besting search engine marketing and social media marketing, although Email often gets only a fraction of the budget. Until recently I've only had anecdotal evidence to support this theory. 
Last week Forrester Research confirmed my experience in their report, The Purchase Path of Online Buyers in 2012. What's interesting is that Email drove 30% of sales of repeat customers, with about 17% coming from combined SEO and SEM and about 1% from social media1.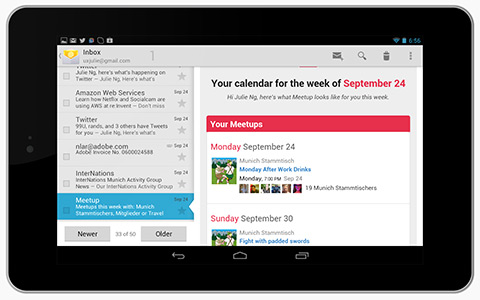 Example of good responsive email on Nexus7 tablet. Twitter has responsive emails too, but their breakpoints aren't optimized for tablets like this one from meetup.com. Nexus7 vector by Lucas Smith.
The future of Email is mobile and <table>s
Not an oxymoron but true. While Email is the most effective marketing channel, the channel itself is changing. Emails are increasingly read on mobile devices (+36%) and desktop client and webmail usage is declining (-10%) - as measured by open rates2.
Coding Emails has always been a pain because more than anything it's tedious. Any tools that can help you are only preprocessors, which need to be run everything you update an email, even if just for bugs.
Although responsive Emails are even more tedious, it's become fun again for me - the challenge of making an Email work across browsers and clients, from Outlook 2000 to iOS, Android etc.
Another frontend niche
Many of the latest frontend developments the past 2 years have been in Javascript or CSS3. If that's not really your thing, check out responsive web design, esp. responsive emails. 
Between visiting friends of the U.S. and Oktoberfest, I'm only just coming back online. But in the next few weeks, I'll be posting a responsive email boilerplate online. So stay tuned!
---
1 The Forrester report is a paid report, but see marketingpilgrim.com for the figures I quoted.
2 See Mailchimp: The Shift From Desktop to Mobile